GENSCO® TRENDING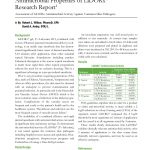 Antimicrobial Properties of LiDORx®
August 8, 2017
Clinical, Featured, Research
-
Antimicrobial Properties of LiDORx® Research Report[1] Assessment of LiDORx® Antimicrobial Activity Against Common Skin Pathogens By: Robert L. Wilbur, PharmD, CPh; David A. Andry, OTR/L Background LiDORx® gel, 3% Lidocaine HCl, combined with Gensco Pharma's patented transdermal delivery technology, is an amide type anesthetic that has demonstrated significantly faster onset more...
LOOKING TO THE FUTURE

A single dose topical colchinium for acute gout flares.

A single dose topical anesthetic for injections and vaccines.