GENSCO® TRENDING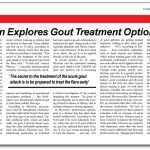 Physician Explores Gout Treatment Options
May 15, 2017
Articles, Clinical, Featured
-
As seen in Chain Drug Review | May 15, 2017 MIAMI — Gout is an extremely painful form of inflammatory arthritis and the most common form of this type of arthritis in men, according to Dr. Gary Myerson, a founding fellow of the American College of Rheumatology. Affecting more than 4% of Americans more...
LOOKING TO THE FUTURE

A single dose topical colchinium for acute gout flares.

A single dose topical anesthetic for injections and vaccines.