…"At the Site" and In Their Pocket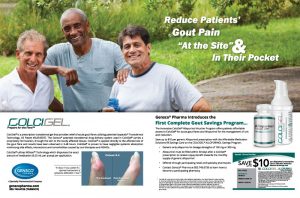 Chain Drug Review | April 24, 2017
Gensco Pharma Introduces the First Complete Gout Savings Program
The innovative ColciGel® Allopurinol Voucher Program offers patients affordable access to ColciGel® for acute gout flares and Allopurinol for the management of uric acid reduction.
Save up to $10 per generic Allopurinol prescription with the Affordable Medication Solutions RX Savings Card on the COLCIGEL® ALLOPURINOL Savings Program.
Generic-only allopurinol in dosage strengths of 100 mg or 300 mg
Allopurinol must be filled within 30 days after a ColciGel® prescription to receive copay benefit towards the monthly supply of generic allopurinol
Offered through participating retail and specialty pharmacies
Contact Gensco® Pharma at 855.743.6726 to learn how to become a participating pharmacy
* Not valid for prescriptions reimbursed under Medicare, Medicaid, or any other federal or state program, or where prohibited by law. Where third party reimbursement covers a portion of your prescriptions, this coupon is valid only for a portion of the amount of your actual out-of-pocket expenses. Offer valid only for prescriptions filled in the United States. Affordable Medication Solutions reserves the right to discontinue this offer at any time. This coupon cannot be combined with any other rebate or coupon, free trial, or similar offer for the specified prescription. The discount will be accepted only at participating pharmacies.