ABOUT GENSCO DIAGNOSTICS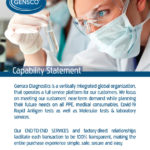 Gensco Diagnostics is a vertically integrated global organization, that operates a full-service platform for our customers. We focus on meeting our customers' near-term demand while planning their future needs on all PPE, medical consumables, COVID-19 Rapid Antigen tests as well as Molecular tests & laboratory services.
Our END-TO-END SERVICES and factory-direct relationships facilitate each transaction to be 100% transparent, making the entire purchase experience simple, safe, secure and easy.
To download our full Capabilities Statement, please click here.
Gensco Diagnostics: Trustworthy, reliable, and knowledgeable…
PRODUCTS
COVID-19 Antigen Tests
Gloves
Go to our Products page for more information.