Contact Gensco® Pharma
Please complete the following form and we will contact you shortly.
MISSION STATEMENT
Gensco® Pharma is committed to Better Science for Health.
Our resources are focused on innovative research, the development of superior quality medications and unique delivery systems. We are an evidence-based solutions company that is progressively developing products utilizing new technologies that deliver outcomes to reduce the effects caused by disease or pathology.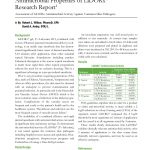 Antimicrobial Properties of LiDORx®
August 8, 2017
Clinical, Featured, Research
-
Antimicrobial Properties of LiDORx® Research Report[1] Assessment of LiDORx® Antimicrobial Activity Against Common Skin Pathogens By: Robert L. Wilbur, PharmD, more...
Looking To The Future

A single dose topical colchinium for acute gout flares.

A single dose topical anesthetic for injections and vaccines.