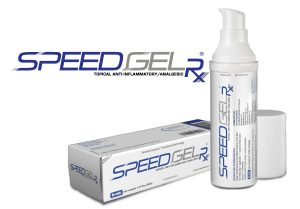 SpeedGel Rx® is a prescription transdermal gel that provides relief of pain, inflammation and bruising, utilizing patented Isopeutic™ Transdermal Technology, US Patent #5,6545337. The Gensco® patented transdermal drug delivery system used in SpeedGel Rx® carries proprietary formulation of active ingredients, through the skin to the locally affected tissues. SpeedGel Rx® is applied directly to the affected site specifically, minimizing side effects, interactions and comorbidities caused by oral therapies and topical NSAIDs. Furthermore, SpeedGel Rx® is clinically proven to reduce narcotic use.
Indications for Use:
Indicated for the relief of pain, inflammation and bruising from:
Inflammatory conditions of joints and soft tissues of the hand, wrist, elbow, shoulder, neck, back, knee, ankle and toe
Injuries such as sprains, strains and dislocations
Arthritis
Repetitive/overuse injuries
Post-surgical edema
General aches and pains
Contusions and trauma
SpeedGel Rx® Size 10mL NDC 35781-0210-1 0.33 fl oz. (10mL) equivalent to 40 doses.
SpeedGel Rx® Size 30mL NDC 35781-0210-2 1.01 fl oz. (30mL) equivalent to 120 doses.
SpeedGel Rx® Size 90mL NDC 35781-0210-9 3.04 fl oz. (90mL) equivalent to 360 doses.
Apply 1 ml (4 pumps of the bottle) as a thin layer to the affected area 3-4 times daily and rub in gently (wash hands after application). Applications of less than 3-4 times daily will not produce optimum results. Excess amounts may be wiped from the area. Safe to use on children over the age of 2 years.
A Non-NSAID Alternative for Pain, Inflammation and Bruising
SpeedGel Rx® is a proprietary combination of active ingredients, four of which are prescription, manufactured with a patented transdermal delivery system. Among the prescription ingredients is: 1) Colchicinum Autumnale, also known as Colchicine, which is a well-known, strong and effective anti-inflammatory medication; 2) Belladonna, an anti-inflammatory medication for localized inflammation and swollen joints; 3) Arnica Montana, which stimulates the healing of injured tissues and contusions, reduces edema, bruising and inflammation, and acts as an analgesic; and 4) Hypericum Perforatum, commonly used for its neurological analgesic effects. The Gensco patented transdermal drug delivery system used in SpeedGel Rx® carries scientifically formulated active ingredients, proven to relieve pain and inflammation, to the affected site.
Launched March 2012
Next generation, higher potency
Available by prescription only
Odorless, no hot or cold sensation (amber in color)
Gensco's unique metered dose technology (MDose™) dispenses the exact amount of medication (0.25 mL per pump) per application
Non-Narcotic, Non-Addictive, Non-NSAID
No known drug interactions or adverse side effects
Next Generation analgesic with greater strength that contains 14 active ingredients (including Zingiber Officinale)
All Gensco products, including SpeedGel Rx®, are distributed to pharmacy chains such as Walgreens®, CVS®, Walmart®, RiteAid®, Kroger® and Publix® through the major wholesalers such as McKesson, Cardinal and AmerisourceBergen. SpeedGel Rx® is contracted with DAPA (Contract #SP0200-15-H-0003), Federal Supply Schedule (FSS), making it accessible to all military personnel and is also available to all MEDICARE patients (Medicare Contract #P1466). SpeedGel Rx® is available through these Group Purchasing Organizations (GPOs): Intalere, Innovatix, MedAssets, Premier, MHA, ROi and Vizient.  
EVIDENCE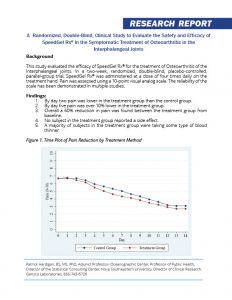 Clinical Study to Evaluate the Safety and Efficacy of SpeedGel Rx® in the Symptomatic Treatment of Osteoarthritis in the Interphalangeal Joints
Patrick Hardigan, BS, MS, PhD | Adjunct Professor- Oceanographic Center, Professor of Public Health, Director of the Statistical Consulting Center, Nova Southeastern University, Director of Clinical Research, Gensco Pharma more…
Accelerated Resolution of Laser-Induced Bruising with SpeedGel Rx®
Patrick Hardigan, BS, MS, PhD | Adjunct Professor- Oceanographic Center, Professor of Public Health, Director of the Statistical Consulting Center, Nova Southeastern University, Director of Clinical Research, Gensco Pharma more…
Prospective Project to Determine the Efficacy of Prescription SpeedGel Rx® in Decreasing Post-Operative Surgical Site Pain and Narcotic use
James R. Andrews M.D., Filippo Chillemi M.D., Mary Jane Robinson more…