Reduce Your Gout Pain
"At the Site" and In Your Pocket
Gensco® introduces the innovative ColciGel-Allopurinol Voucher Program offering affordable access to ColciGel® for acute gout flares and Allopurinol for the management of uric acid levels.
Savings
Save up to $10 per prescription with the Gensco Pharma RX Savings Card on a ColciGel® and Allopurinol prescription.
Generic-only allopurinol in dosage strengths of 100 mg or 300 mg
Allopurinol must be filled within 30 days after a ColciGel prescription to receive copay benefit towards the monthly supply of generic allopurinol
Offered through participating retail and specialty pharmacies
To receive your savings voucher, call (877) 7GENSCO (743-6726) or click here.
Tools to Help Manage Your Gout
Flare Journal to log and track your flares
A gout attack can be triggered by a number of things, both controllable and uncontrollable. Use this journal track your gout flares and possible triggers. Bring this journal to your health professional so you can discuss ways you can manage or prevent future attacks.
Download here.
Educational Resources
As old as this disease is, dating back to 5 B.C., gout is misunderstood, and most Americans admit to not having any knowledge about the disease. More than 8 million Americans have gout, and the number is rising. But only 10 percent of patients get proper treatment. Your understanding of gout, seeing your doctor early, making sure you have a proper diagnosis, and staying on track with your treatment regimen will improve this number—and your outcome. Learn more about how to manage your gout and enhance the quality of your life with these resources courtesy of the Gout & Uric Acid Education Society (a nonprofit organization of health care professionals dedicated to raising awareness about gout arthritis):
Communicating with Your Doctor
Dr. Brian Mandell, M.D., Ph.D., Gout and Uric Acid Education Society Board Member talks about what patients should know about communicating with their doctor about overall health, lifestyle and treatment goals.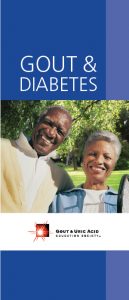 Gout and Your Diabetes
People with type 2 diabetes may be more likely to
have high levels of uric acid in the blood – the root
cause of gout.
Controlling blood sugar and uric acid levels can help
to make both diabetes and gout easier to manage.
The Gout & Uric Acid Education Society is a nonprofit organization of health care professionals dedicated to raising awareness about gout arthritis, with the aim of improving the quality of care and minimizing the burden of gout. The Gout & Uric Acid Education Society offers complimentary resources for both the public and medical professionals.
The Gout and Uric Acid Education Society (GUAES) does not endorse or recommend any Gensco Pharma, LLC products. Gensco Pharma and GUAES have not entered into any overarching partnership.
About ColciGel®
ColciGel®, Colchicinum 4x/Colchicine, is a prescription transdermal gel that provides rapid relief of pain at the first sign of acute gout flares without gastrointestinal problems. The Gensco® patented transdermal drug delivery system used in ColciGel® carries a proprietary formulation, through the skin to the locally affected tissues. Applied directly on the site of the flare, the medication penetrates the dermal layer resulting in a reduction of inflammation as early as 3 hours after the initial application. ColciGel® utilizes MDose™ Technology which dispenses the exact amount of medication (0.25 mL per pump) per application.
ColciGel® – 2 PAK: 30mL (15mL x 2 bottles) NDC 35781-400-4
Apply 0.5ml – 1 ml (2-4 pumps) to the site of the gout flare, every hour as needed for pain relief up to a total of four doses within twenty four hours. Medically necessary.
About Allopurinol
Allopurinol reduces the production of uric acid in your body. Uric acid buildup can lead to gout or kidney stones. Take allopurinol exactly as prescribed by your doctor. Do not take in larger or smaller amounts or for longer than recommended. Follow the directions on your prescription label.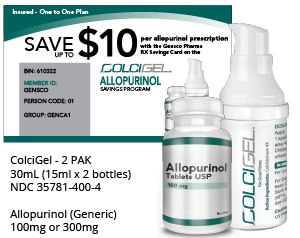 * Not valid for prescriptions reimbursed under Medicare, Medicaid, or any other federal or state program, or where prohibited by law. Where third party reimbursement covers a portion of your prescriptions, this coupon is valid only for a portion of the amount of your actual out-of-pocket expenses. Offer valid only for prescriptions filled in the United States. Affordable Medication Solutions reserves the right to discontinue this offer at any time. This coupon cannot be combined with any other rebate or coupon, free trial, or similar offer for the specified prescription. The discount will be accepted only at participating pharmacies.
Sign up to receive your savings voucher here,
OR call (877) 7GENSCO (743-6726).