ABOUT GENSCO DIAGNOSTICS VENTURES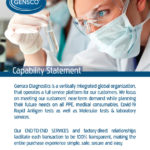 Gensco Diagnostics is a vertically integrated global organization, that operates a full-service platform for our customers. We focus on meeting our customers' near-term demand while planning their future needs on all PPE, medical consumables, COVID-19 Rapid Antigen tests as well as Molecular tests & laboratory services.
Our END-TO-END SERVICES and factory-direct relationships facilitate each transaction to be 100% transparent, making the entire purchase experience simple, safe, secure and easy.
To download our full Capabilities Statement, please click here.
Gensco Diagnostics: Trustworthy, reliable, and knowledgeable…
PRODUCTS
COVID-19 Antigen Tests
FlowFlex Self-Tests
iHealth Self-Tests
Sienna POC Tests
Vision POC Tests
Gloves
Walletz4u Emerald™ Nitrile Examination Gloves
Walletz4u Celosia™ Sterile Latex Surgical Gloves
Walletz4u Lilac™ Sterile Surgical Gloves
Walletz4u Bluebell™ Sterile Surgical Gloves (Trauma & High Risk)
Walletz4u Aster™ Sterile Surgical Gloves (Microsurgery & Underglove)
Workwear
EnviroGuard ChemSplash 1
Hanes Medical Gown
Go to our Products page for more information.
Who We Are
Manufacturer & Distributor of Brand & Specialty Rx and OTC pharmaceuticals to customers that span across all trade classes within healthcare
Wholesaler & Distributor of a wide array of Medical and Dental Rx and OTC drugs, Diagnostics and Surgical supplies and equipment, COVID test kits, and Personal Protection Equipment (PPE).
Direct to primary and secondary Wholesalers and Distributors, Community Pharmacies, Pharmacy Chains, Hospitals, Hospital systems, Military and Government.
Trustworthy, reliable and knowledgeable resource to our customers and vendors