Carlos Alfaras | President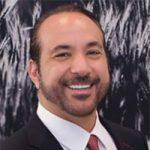 Mr. Alfaras has served as President of Gensco Pharma since January of 2011. Since the acquisition, the company has launched three new products based on Patented Transdermal drug delivery technology and increased revenues by 2000% under his direction.
He was immersed into generic pharmaceutical distribution as teenager helping his grandfather and father's company National Drug Wholesale (NDW), by working entry level jobs culminating in becoming the pharmaceutical buyer by high school graduation. NDW was acquired by Harvey Labs in 1987.
He attended the University of Miami, majoring in Biology/Pre-Medical studies and utilized this education and experience to enter the pharmaceutical management world.
In his dedication for the pursuit of excellence he has had successes in creating growth in revenues at every company he has been associated with through education, team building, strategic planning and efficiently determining the development strategies for all.
He has held the following positions:
Director of Purchasing and GM, PHARMED Group
Vice President, Sunshine Medical
C.O.O, DNA Pharmaceuticals
Head of Business Development, Bioniche Pharma
Senior Director Alternate Care and Business Development, ANDA Pharmaceuticals/ANDRX Corporation
Executive Director, Business Strategy, ANDA/Watson Pharmaceuticals
President & CEO, AHP Group
President, Gensco Pharma
Mr. Alfaras currently resides on the Board of Directors for the following companies:
AHP Group
FDA Consulting Group
He is also a member of the following non-profit organizations:
Catholic Charities
I9 Sports
Special Olympics International
Carlos Alfaras is dedicated to building a legacy of mentorship both professionally and personally and has been recognized as such by developing an ever-growing list of successful persons in the industry.
Gensco Executive Team
Carlos Alfaras | President bio »
Frank Aguilar | VP, National Accounts
Crystal Lore | VP, Business Development bio »
Robert L. Wilbur, Pharm.D., CPh | Executive Director, Medical Affairs bio »
David A. Andry | Senior Director National Accounts
Lewis Archibeck | Sr. Sales Executive
Lisa Capote, Esq | General Counsel